Ron's Gyros is a modern, professional gyroplane flight training facility.
---
Ron Menzie began his flying career in Rhode Island in 1968 and to date has logged over 10,000 hours in gyroplanes and 1500 hours in fixed wing aircraft. From 1977 to 1987 he toured the Midwestern states as an air show performer with the Great American Air Circus where his piloting skills and bright orange gyrocopter were popular attractions with audiences. His expertise as an aircraft builder led to the opportunity to construct the tandem gyroplane flown by Ken Brock for the Antarctic Exploration sponsored by National Geographic.
For 20 years, Ron has been instructing gyro pilots at his flight school in Searcy Arkansas where he is the FAA appointed Safety Counselor. The Searcy Municipal Airport (KSRC) is an ideal training facility with a 6000 x 100 foot asphalt runway and access to a grass strip. Ron holds a DPE Gyroplane, CFI Gyroplane, Commercial SEL, and is an Advanced Ground School Instructor, as well. Ron is a lifetime member of the Popular Rotorcraft Association and served on its Board of Directors for 15 years.
Through the Years With Pride
The Ron Menzie Story
---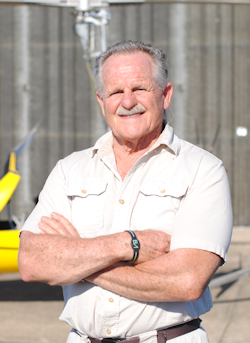 Ron Menzie (Owner)
Ratings Held
* Designated Pilot Examiner (Gyroplane)
* Certified Flight Instructor (Gyroplane)
* Commercial (SEL)
* Advanced Ground School Instructor
* FAA Flight Safety Counselor